College Football [2021 Season]
After a rough College Football season in 2020, it's time to look forward to a full season in 2021. The road to crowning a national champion begins this fall with coverage of 80+ key match-ups on ESPN and ESPN2. Then, December kicks off Bowl Season games with top 12 teams from across the country match up in the New Year's Six Bowls.
Peach Bowl: December 30, 2021 on ESPN
Cotton Bowl – Playoff Semifinal: December 31, 2021 on ESPN
Orange Bowl – Playoff Semifinal: December 31, 2021 on ESPN
Fiesta Bowl: January 1, 2022 on ESPN
Rose Bowl: January 1, 2022 at 5:00pm ET on ESPN
Sugar Bowl: January 1, 2022 at 8:45pm ET on ESPN
College Football Playoffs National Championship: January 10, 2022 at 8:00pm ET on ESPN
Below are some quick facts around College Football viewers: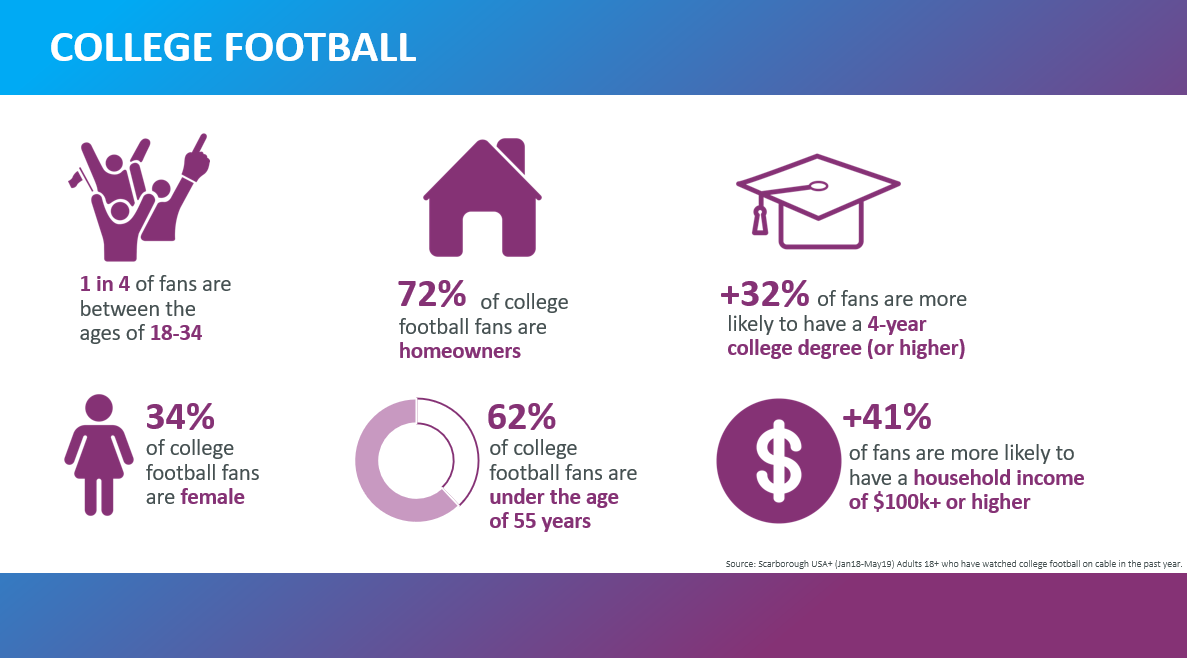 Source: Scarborough USA+ (Jan18-May19) Adults 18+ who have watched college football on cable in the past year.
All dates and times are subject to change by their respective networks. Always consult your Cox Media Consultant for local listings.
---
Connect with a Marketing Expert
Stay On Top of the Newest Business and Marketing Insights
Sign up for our monthly newsletter to get the latest industry information, business trends and marketing updates.
Connect With Your Local Marketing Expert
You know your business. We know advertising. Together, we can bring your business to more people. Contact a member of our team today. We'd love to help you grow.